Timothy Watson
18th June 2021
3 minutes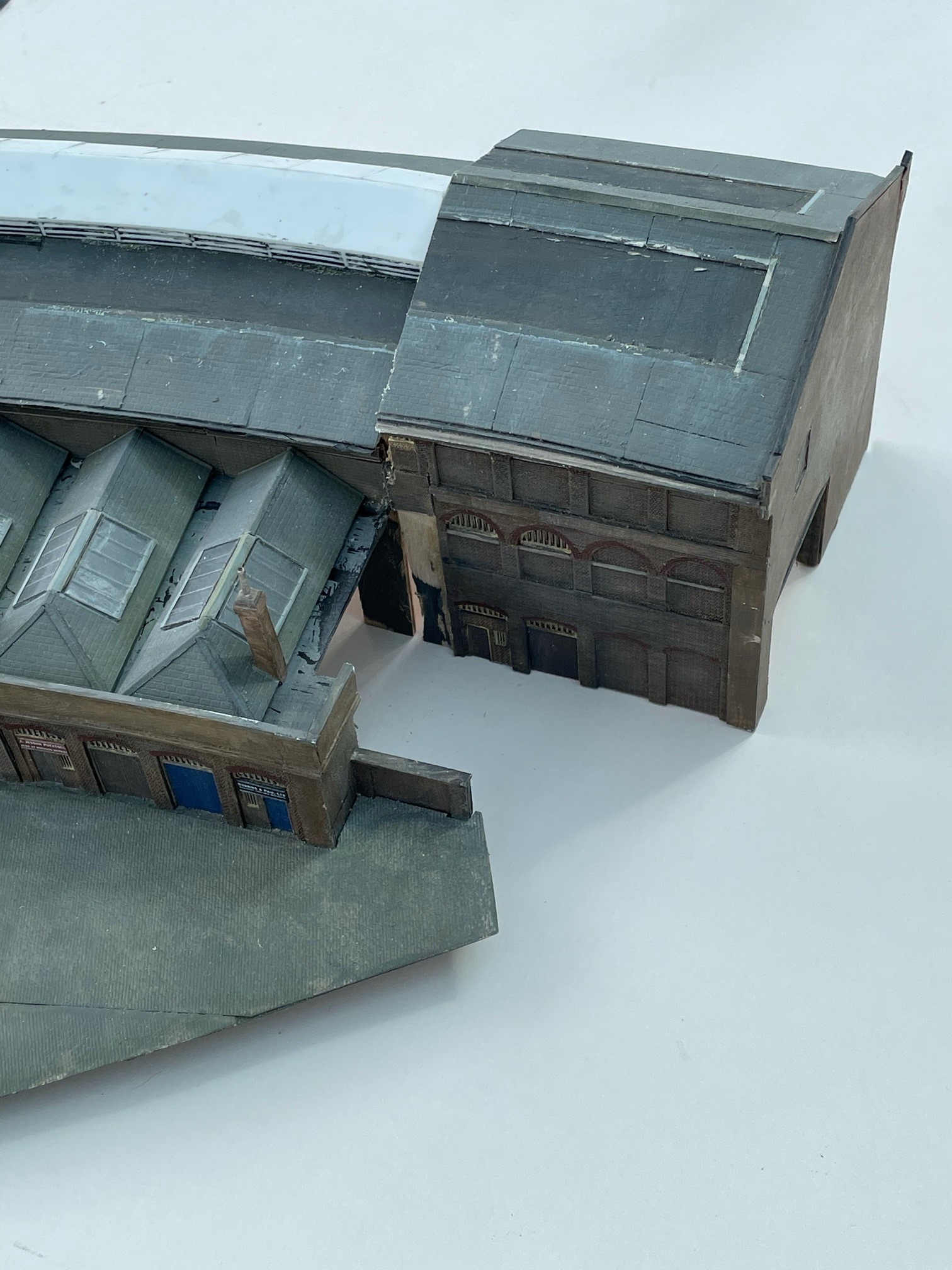 This was the state of play with the KX goods sheds up until two weeks ago.
However, I have been in correspondence with Malcolm Tucker, who knows a great deal about the KX Goods Yards. A little bit of knowledge can be a bad thing for some, i.e. me, and one of the comments he made was that the cart road was too low relative to York Road.  He was correct, of course, so I raised the whole section by 10mm and the scene was much improved. Unfortunately, this also raised the already tall long shed, especially in relation to the York Road viaduct,  simultaneously altering its horizontal relationship with the tracks going into the sheds. The solution to the height issue was to lower the roof of the main building by 17mm and take out the top story.
The roof was re-instated and a clerestory vent made by Alan Budgen, which actually then bring it back up by 10mm. That didn't do much to help the relationship with the YR viaduct and track, so I chopped 90mm off the length of the building, to take it away from the road bridge. The height differences are very apparent when the two sections are juxtaposed.
The overall improvement by lowering the rear roof is, I think, quite significant. The raised 10mm is also apparent in this image: the gap at the baseboard end will obviously be filled in at some point.
The solution to how to handle the north end of the sheds is also just visible in this image; albeit only sketched in.
The prototype had some large E-W canopies added in the 1890s and I thought that one of these would make an interesting addition at the north end.
On the prototype, these were supported and braced at one end by the walls of the potato warehouses and so a suitable wall was incorporated on the model. Ironically, it is the base of the chopped off building section and is more or less back where it started a decade ago, when Mike Randall started off the whole scene.
A placeholder building can be seen, to give some idea of the effect aimed for.
This placeholder has a roof pitch that is too shallow and is 10mm over wide. The actual model will be of etched construction, courtesy of Jim Watt, because this roof was mainly glass. The view through to the yard below should look pretty effective.
The benefit of raising of the whole area becomes apparent when you look at the cart road canopies. They can now be seen underneath, albeit an intriguing view, but at least the new vehicles and horses will be more visible.
Worth all the effort? I hope so…
Thursday Track Nights
We are open on Thursday evenings from 7pm to 9pm at our Keen House clubrooms. Visitors are welcome, please come along and introduce yourself.
Address:
Keen House, 4 Calshot Street, London, N1 9DA
Become a member