Webmaster
18th September 2021
2 minutes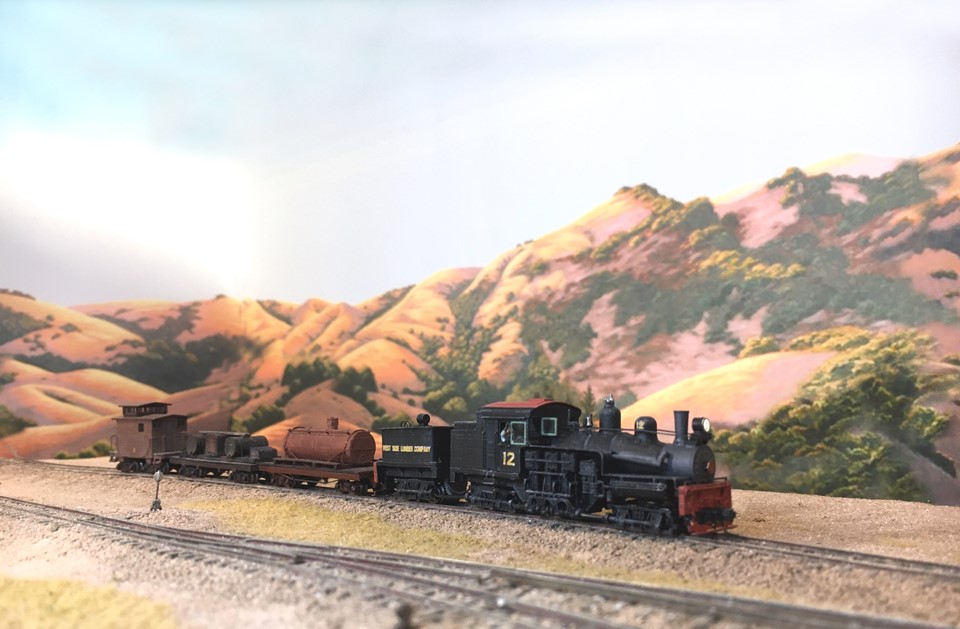 Tom Knapp writes from Hawaii:
I've just completed construction of an interesting 1:160 narrow gauge locomotive kit from Showcase Miniatures. It is designed to run on 6.5mm gauge track, simulating 3-foot narrow gauge. The model is West Side Lumber Company's three-truck Shay No. 12. West Side Lumber Company (and its predecessor the West Side Flume & Lumber Co.) operated a railroad in Sierra Nevada mountains of California from 1898 until 1961, hauling logs from camps in the Sierras to the sawmill in Tuolumne.
Their locomotive roster included Heisler's, rod engines and a fleet of Shays. Shay No. 12 was built by Lima in 1927 for the 36″ narrow gauge Swayne Lumber Co., in Oroville, CA, as their #16. In 1940, it was sold to West Side Lumber in Tuolumne, CA, and renumbered #12. It has been preserved and is now part of the operating collection of the Colorado Railroad Museum. It is a Class C Shay.
For those unfamiliar with this type of locomotive, it uses a steam engine mounted on one side of the frame to drive a driveshaft along and outboard of the trucks (bogies) and driving the wheels through bevel gears. Shay locomotives (named for Ephraim Shay who patented the design in 1881) are classified as follows:
Class A – Two cylinders, two trucks
Class B – Three cylinders, two trucks
Class C – Three cylinders, three trucks (the third truck is under a water tender, and connected to the second truck by a driveshaft)
Class D – Three cylinders, four trucks (of almost 3,000 Shays built through the mid-20th century, only 19 of these large Shays were built)
Showcase Miniatures has previously released and produces kits for the Mich-Cal No. 2 Class A Shay, and a Class B Shay, and this Class C Shay completes the triptych of classic narrow-gauge Shays. The kit is composed of white metal castings, 3D-printed parts, and brass and stainless-steel etchings, laser-cut spacers, along with Micro Trains couplers, some nuts, screws and washers, and decals. The coreless-motor-powered trucks are not included in the kit, but they sell them separately.
After assembly, I shot some video of test running the loco (at speeds as low as 3 scale-miles-per-hour) which can be viewed at: https://youtu.be/4U-hDS6Fo_o
Thursday Track Nights
We are open on Thursday evenings from 7pm to 9pm at our Keen House clubrooms. Visitors are welcome, please come along and introduce yourself.
Address:
Keen House, 4 Calshot Street, London, N1 9DA
Become a member